Gold futures settled at the highest since August 2016, as investors got behind a rally brought on by a falling dollar. Volume soared in the futures market, with trading more than double the daily average.
Gold for April delivery climbed 1.5 percent to settle at $1,361.40 an ounce at 1:37 p.m. on the Comex in New York. Holdings in exchange-traded funds backed by the metal climbed to the highest since May 2013 and the dollar dropped to the lowest against trading partners since 2014.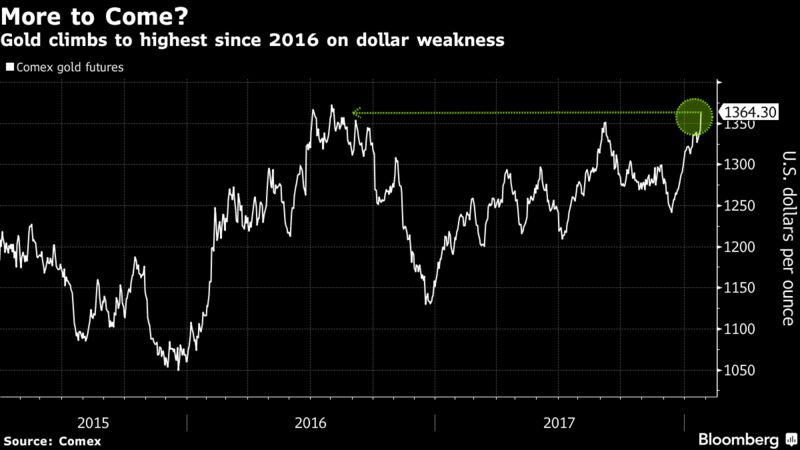 "Gold has again started the year impressively," Jordan Eliseo, chief economist at Australian Bullion Co. in Sydney, said in an email. Higher levels of demand are being seen across the precious metal spectrum, especially in ETFs, which are seeing significant inflows, he added.
January is traditionally gold's strongest month, as consumers in top buyer China snap up metal ahead of the Lunar New Year. Analysts at Macquarie Group Ltd. forecast prices could rise further.
ETF Holdings
Total known holdings in bullion-backed ETFs climb to 2,254 tons as of Tuesday

Highest since May 2013: data compiled by Bloomberg
Volume
Trading on the Comex in New York was 110 percent above the 100-day average for the time of day

Exchange saw record gold volumes last year

Volume traded on the London Metal Exchange's contract jumped 150% to a two-week high on Tuesday
Other precious metals
Silver rose on the Comex.
Platinum and palladium climbed on the New York Mercantile Exchange.
Read the Original Article on bloomberg.com